Play is much more than just fun and games. Play is how children learn! Kinderberry Hill Education Coordinator Sara Reichstadt was recently featured on New Horizon Academy's Parenting Pickup Podcast to talk about all things play. She not only shares the benefits of play but also tips on how parents can encourage play at home!
Why is Play Important for Children?
Play is important for children because it promotes learning. It is a way for children to learn about themselves as they discover their interests, skills, and strengths. Play allows children to make decisions as they make up storylines and characters. Children learn to listen, collaborate, and negotiate as they play in groups and share ideas. Play provides children with many important life skills.
How Can Parents Encourage Play at Home?
Learning through play can extend far beyond the classroom, not only at home but on the go!
Here are a few ways you can promote learning through play with your child.
1. Prioritize Play.
Make play a priority! While busy schedules can make it difficult to find a lot of time for play, it's important to recognize the benefits, so you can make it a priority. Does your family recognize the benefits of play as much as other activities you prioritize throughout your day? Even setting a little time aside for play each day will go a long way.
2. Limit electronics.
It can be tempting to give your child electronics to keep them occupied when they're bored. But meaningful play is also a great and engaging way to keep children occupied. The next time your child is bored, swap electronics with blocks, toy cars, or other loose parts that allow children to use their minds and be creative.
3. Let your child play alone.
Independent play can be so beneficial for children. Playing alone allows children to use their imagination and problem-solve on their own. It gives them independence and self-confidence as they make decisions and engage in their own ideas.
4. But also find time to play with your child.
While playing alone is important, so is taking time to play with your child. When children and adults play together, children feel valued and listened to. Playing with your child is a great opportunity to give them positive feedback, reinforce developing skills, and challenge them to take their play further.
5. Incorporate loose parts.
Loose parts are materials found around the house that don't have a specific purpose for play. Loose parts can be as simple as buttons, brushes, milk cans, sticks, or kitchen pans. They can really be anything that children can use to think and play creatively. A plate could turn into a pancake or wheel. A box could turn into a house or spaceship. By incorporating loose parts, children are able to fully dive into their imaginations.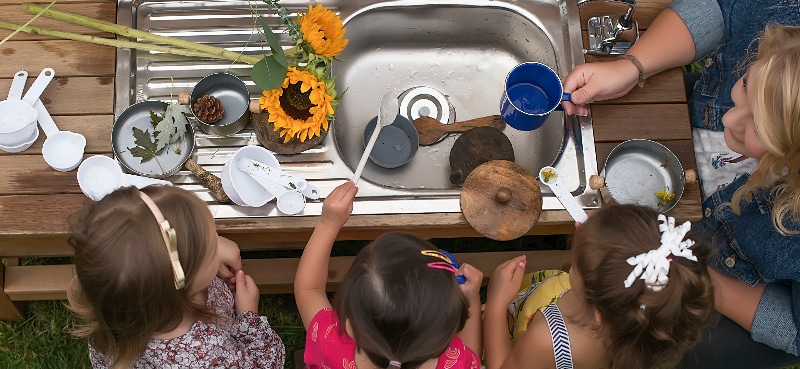 6. Set up different play experiences.
Help facilitate productive play by creating different scenes and scenarios to kickstart your child's thinking. Consider swapping out toys and loose parts every so often so your child can play with new items. Doing so can encourage your child to think outside of the box and come up with countless new ideas.
7. Add different variables to play (ex. light and music).
Adding unexpected factors such as light or music to play can be fascinating to children. Allow your kids to play with flashlights or glow sticks to explore the concept of light. Put on music to ignite their creativity. You could also display a background image on a projector to showcase a certain scene for dramatic play.
8. Take play outside.
Let children explore the great outdoors as they play! If your child is hesitant about going outside, start by taking a few of their favorite toys outside to help them feel comfortable. If you show your children that you enjoy being outdoors, chances are they will enjoy it too.
For more great ideas on how to incorporate meaningful play in your home, check out New Horizon Academy's Importance of Play Podcast, where Kinderberry Hill Education Coordinator Sara Reichstadt shares tips for learning through play.
Kinderberry Hill is a Reggio Emilia-inspired early learning program offering care and education for children ages 6 weeks to 5 years. From child-led curriculum to outdoor classrooms, our unique approach to childcare will help your child have the very best start. Find a Kinderberry Hill school near you and contact us to schedule a tour today!