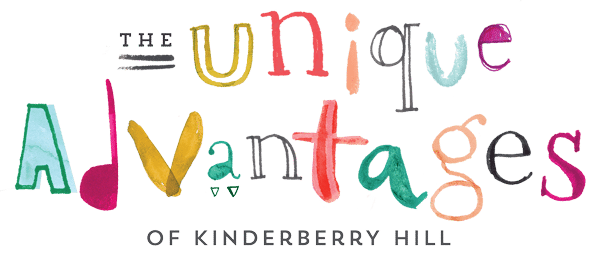 The Kinderberry Hill experience is about the sense of comfort and security you feel when your child is warmly greeted each morning by teachers and friends and the pride you feel in your child's daily progress and accomplishments. When families visit us for the first time, they comment on how the look and feel of our school is unlike any other early childhood program they have seen. The only way to fully appreciate the advantages of Kinderberry Hill is to come see for yourself.
Kinderberry Hill is clearly in a league of their own with the quality of their teachers, administrators, support staff (nurse, cook, outside educators, etc.), educational programs, and facilities.
–Kinderberry Hill Family
UNLOCKING EVERY CHILD'S POTENTIAL
At Kinderberry Hill, it is our desire to create strong bonds with the children in our care. Children of all ages learn best when they know they are being cared for and taught by adults to which they feel a strong connection. Learning each child's individual needs—both physically and academically—is our biggest priority. We encourage each child to thrive and grow at their own individual pace.
We acknowledge the family as a child's primary source of love and care. We strive to create valuable relationships with families and partner with them in nurturing their child as an individual, as a family member, and as a member of society. We encourage families to share and participate in their child's educational journey at Kinderberry Hill. We value and honor the diverse backgrounds and experiences that our families and children bring to our school communities. We cherish opportunities for families to share their time, talents, and unique cultural experiences within our schools.
At Kinderberry Hill, we view children as competent and capable with ideas, wisdom to share, and infinite amounts of potential. This is central in the 100 Languages of Children from the Reggio Emilia Approach. Each child has many of ways of thinking, exploring, playing, creating, speaking, and learning. We inspire each child to use their specific talents to express themselves and share their ideas within their community. All children are complete individuals—just as they are, rich in potential, ready to be challenged, and eager to learn.
Early literacy, STEM, and social-emotional learning
We believe that children learn best when they are naturally curious about a subject. Our early educators observe the interests of the children. When children express interest or curiosity in a topic or idea, our teachers follow that lead and design learning activities and opportunities around those ideas. Early literacy, STEM, and social-emotional learning are weaved into the topic.
We believe children learn best through play. Play provides endless opportunities to discover, create, and explore—all important lifelong skills. Play fosters verbal and social skills. Play provides a vital component of social-emotional learning and friendship.
Kindergarten Readiness Skills
We know that a quality early childhood experience successfully prepares each child for a lifetime of curiosity and investigation, while building self-esteem and an enduring love of learning. At Kinderberry Hill, your child's first educational experiences will be unique, intentional, and filled with joy and wonder. Our graduates enter elementary school ready to learn, eager to participate, and full of curiosity—all invaluable skills which create a solid foundation for years to come.
Scheduling Options
Kinderberry Hill is one of the only child development programs to offer a select number of part-time
and flexible scheduling options to accommodate today's working families. Availability is based on
classroom capacity and program occupancy.
Onsite School Nurse
Unique to Kinderberry Hill, our schools have an onsite school nurse. Our nurse leads our health and wellness efforts, monitors food allergies, medications, dietary restrictions, and health conditions, and provides first aid.
Wonder Lab
Our comprehensive early education curriculum is enhanced with proprietary enrichment programs taught by field experts in our schools. To learn more about the enrichment programs we offer visit our
Enrichments Page.