Screen-Free Week (May 1-7, 2017)
—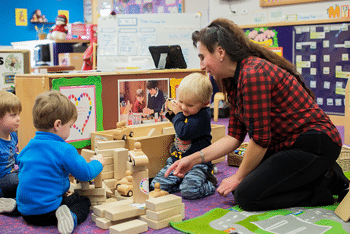 Although the American Academy of Pediatrics recommends no screen time for children under 2, and less than 2 hours per day for older children, on average, preschool children spend a staggering 32 hours a week with screen media. Some of the distressing effects of these early habits can include poor school performance, obesity, problems with attention and socialization, and most importantly, changes in children's fundamental connection to the world.
By limiting your child's screen time, he or she will have more time for hands-on creative play. Play is essential and promotes intellectual growth, critical thinking, problem-solving, and self-control. Children play to have fun, express themselves, gain a sense of self, and make meaning of their world. We applaud you for joining us for Screen-Free Week and wish you many joy-filled memories with your family! Here are 30 fun screen-free ideas to do as a family:
Make cookies and share them with a neighbor
Try a new craft
Have an international dinner night and learn about a new culture
Play charades and board games and have a family game night
Go on a picnic or go camping
Take a nature hike
Visit the library
Attend a live sports event
Go to a museum or zoo
Take a bike ride
Build a fort inside or outside and camp in it
Make your own play dough (see recipe below!)
Plan a day trip to a fun, historical site
Go to the lake or beach
Plan a scavenger hunt
Play in the sprinklers
Visit the famers' market and try new foods
Host a neighborhood potluck party
Make homemade pizza from scratch
Go canoeing
Make a card for a grandparent
Watch the sunset or watch the night sky and learn about stars
Play hopscotch, hide-n-seek, and freeze-tag
Make a campfire and tell stories
Create a masterpiece with sidewalk chalk
Look through old family photos
Fly a kite
Make puppets and have a puppet show
Make a bird feeder and feed the birds
Visit with a neighbor
Try this homemade play dough recipe!